Build & Release Engineer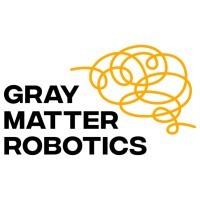 GrayMatter Robotics
Software Engineering
gardena, ca, usa
Posted on Saturday, September 9, 2023
Position Summary
Headquartered in sunny Los Angeles, GrayMatter Robotics is a well-capitalized AI robotics startup serving the manufacturing industry. We empower shop floor workers with our smart robots that assist with tedious and ergonomically challenging tasks, specifically in automated surface finishing. Our proprietary GMR-AI™ software is integrated with state-of-the-art industrial robots, sensors, and tools to create application-specific turnkey solutions for customers through a Robot-as-a-Service (RaaS) model.
We help manufacturers improve the quality of life for their workforce while increasing production capacity, and reducing scrap, repair, and rework costs. As a Build & Release Engineer you will join our software engineering team onsite in our Gardena, CA office to ensure the security, stability, and efficiency of our software development and deployment processes. You will work closely with the development team to establish a controlled build environment, implement continuous integration and delivery pipelines, and create tools that enhance developer productivity. If you are passionate about AI, robotics, and cutting-edge technologies, and you have a strong background in software build systems, CI/CD, and development environments, we encourage you to apply.
Role & Responsibilities
Collaborate with the development team to establish a controlled build environment that addresses security concerns and prevents the deployment of uncompiled code.
Design and implement robust CI/CD pipelines using tools like Jenkins to automate the testing, integration, and deployment processes.
Ensure that all code changes undergo thorough testing before being deployed to production environments.
Utilize your expertise in NX CAM Code to manage and maintain the heavy C/C++ coding in the backend of our windows-based software application.
Work closely with developers to create a clean and efficient development environment, incorporating tools such as Docker, Unix, and Bash scripting.
Develop and maintain tools that enhance developer productivity, streamlining coding, testing, and deployment processes.
Collaborate with cross-functional teams to define and update schedules for development freezes, ensuring the stability of code during critical phases.
Implement best practices for Platform as a Service (PaaS) deployment, contributing to the scalability and reliability of our software applications.
Build and manage a scalable dev environment for engineers as the team grows, ensuring a consistent and efficient development process.
Provide technical guidance and support to the team on software build and release related matters.
Stay current with industry trends and technologies related to build systems, CI/CD, and development environments, and recommend relevant improvements.
Minimum Qualifications
Bachelor's degree in Computer Science, Software Engineering, related field or equivalent experience
5+ years of hands-on experience in software build and release engineering roles
Proficiency in C/C++ programming and experience with NX CAM Code
Strong expertise in setting up and managing CI/CD pipelines using tools such as Jenkins
Solid understanding of version control systems (e.g., Git) and branching strategies
Experience with Bash scripting, Docker, Unix, and/or other relevant tools in the build and deployment process
Knowledge of Platform as a Service (PaaS) deployment concepts and best practices
Strong problem-solving skills and the ability to address complex software development and deployment challenges
Excellent communication skills and the ability to collaborate effectively within cross-functional teams
Willingness to work in a fast-paced environment with quickly changing priorities
Must secure work authorization in the United States and maintain ongoing work authorization beginning at the time of hire through the entirety of employment
Preferred Qualifications
Master's degree in Computer Science, Software Engineering, or a related field
Certification in AWS Certified DevOps Engineer, Certified Jenkins Engineer, or Docker Certified Associate
Familiarity with creating tools to improve developer productivity
Proven track record of delivering high-quality, stable software build systems in a fast-paced startup environment
Experience building desktop software and familiarity with low level programming
GrayMatter Robotics provides equal employment opportunities to all employees and applicants for employment and prohibits discrimination and harassment of any type without regard to race, color, religion, age, sex, national origin, disability status, genetics, protected veteran status, sexual orientation, gender identity or expression, or any other characteristic protected by federal, state or local laws. This policy applies to all terms and conditions of employment, including recruiting, hiring, placement, promotion, termination, layoff, recall, transfer, leaves of absence, compensation and training. We celebrate diversity and are committed to creating an inclusive environment for all employees. We encourage and embrace applicants of all backgrounds to apply!
GrayMatter Robotics is committed to providing reasonable accommodations for candidates with disabilities. If you believe you require accommodations during the recruiting process, please contact accommodations@graymatter-robotics.com to submit your request.
Please note this job description is not designed to cover or contain a comprehensive listing of activities, duties or responsibilities that are required of the employee for this job. Duties, responsibilities and activities may change at any time with or without notice.
Compensation for this position includes the base salary range of $140,000 - $170,000 USD plus equity. We also provide comprehensive benefits and perks which include but are not limited to unlimited PTO, 401(k) plan + employer match, regular offsite events, a discretionary fund for enhancing productivity and so much more! The range listed on job postings reflect the minimum and maximum new hire salary across levels in Los Angeles, CA.